Meet and greet with IMA Patron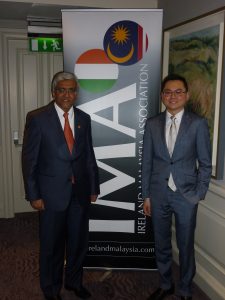 We were delighted to welcome H.E. Ambassador Dato' Syed Sultan Idris as the IMA's Honorary Patron at a special meet and greet event in March. Members and friends of the IMA were given individual opportunities to sit and talk with the Ambassador. At the event, the Ambassador spoke to a full room about solidarity and the importance of working together to build on the already strong and performing trade partnership between the two countries.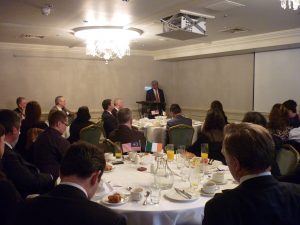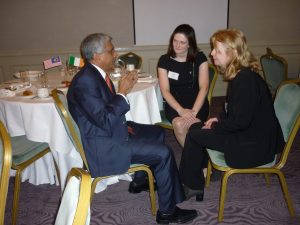 Please contact us if you are interested in attending a future event.



Inaugural Gala Dinner
The IMA has been instrumental in the promotion of bi-lateral business relations between Ireland and Malaysia.
To commemorate and to celebrate our journey thus far, the IMA held an Inaugural Gala Dinner.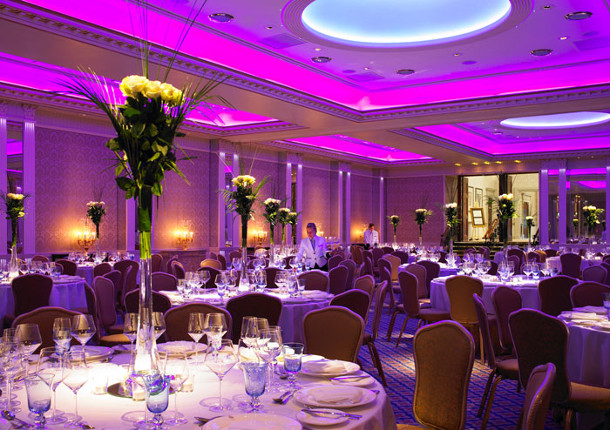 The evening was hosted by IMA's Patron, H.E. Ambassador Dato Ramli Naam, the Ambassador of Malaysia to Ireland and IMA's Executive Council.
The main goal for the evening was to provide an opportunity for members from both the Irish and Malaysian business community to network in an elegant setting. Members from a range of industries were able to share experiences and advice on doing business in Malaysia and discuss what opportunities are available.
The evening was also intended to celebrate the successes of the IMA and our members during the past two years both in Malaysia and Ireland and to lay down a marker for IMA events in the coming year.
This event was kindly sponsored by:


October 10th & 11th: APIBF
The Asia Pacific Ireland Business Forum is a unique construction focussed on building connections between and with the GAA Clubs and business groups based in the Asia-Pacific & Gulf Regions. Introduced formally in 2007, the APIBF events bring together Irish business people, people doing business with Ireland & Friends of Ireland in the dynamic Asia-Pacific & Gulf Regions.
The early commitment by Dick Spring, FEXCO and former Tánaiste & Minister of Foreign Affairs to travel to Singapore in 2007 to attend the inaugural APIBF enhanced the credibility & prestige of the day-long event. His participation since that time has been a constant support to the voluntary team who organise the annual events.
Since 2007, the APIBF has grown in substance & has become a feature of the annual Asian Gaelic Games weekend. It has been hosted successively in Penang, Malaysia (2008), Bangkok, Thailand (2009), Hong Kong, China (2010), Seoul KOrea (2011) with Ireland rounds held in Dublin in 2011 and 2012, attracting in excess of over 1,000 individual attendees from around the region & from Ireland, between all the events.
October 5th to 13th: Business Visit to Kuala Lumpur
The ATF ran a business visit to Malaysia from October 5th to 13th in Kuala Lumpur. It provided networking opportunities with Irish businesses and agencies from all over Asia Pacific region that were participating in the Asia Pacific Ireland Business Forum and the annual GAA Asia Games.
ATF delegation brochure 13
'Stats prove pro-business environment for FDI in Malaysia says IMA'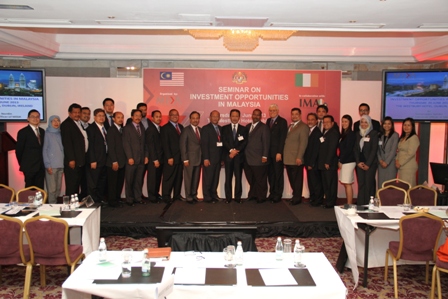 At a gathering of over 80 Irish exporters and Malaysian government agencies, impressive success stories were shared. His Excellency Dato' Ramli Naam, Malaysian Ambassador to Ireland offered some statistics on trade with the country saying 'Latest figures show that Malaysia has seen a 6% increase in imports to US$190billion and 3% increase in exports to US$426billion.' He continued 'Despite the difficult economic climate, Ireland is Malaysia's 12th trading partner in the EU, with a 32% increase in trade from the services sector in Q1 of this year alone.' He said 'This is as a direct result of the efforts by the Malaysian Government to build a pro-business environment for FDI.'
Datuk Noharuddin Nordin, Chief Executive Officer of the Malaysian Investment Development Authority (MIDA)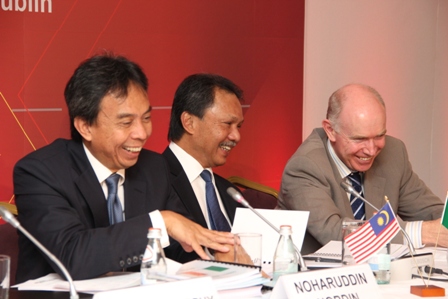 echoed the sentiment of Dato' Ramli Naam by saying 'Malaysia has played host to more than 8,000 multinational organisations since the 1970s. Our Government has continued to invest in infrastructure to make Malaysia a business friendly and strategic location for FDI. In 2012 the Department of Education invested MYR37 billion in the education system, ensuring a continuous pool of highly skilled people.' He continued 'Malaysia has a dedicated Intellectual Property Court for the protection of IP infringement. This provides a safe and secure environment for the growing number of technology companies in Malaysia.' Summarising, Datuk Noharuddin Nordin said 'Asia is the fastest and biggest growing market in the world. By operating from Malaysia, organisations can enjoy preferred access to those markets through the Free Trade Agreements and Regional Bilateral Agreements concluded by Malaysia. He added 'By 2020 Malaysia aspires to be a high income nation. We are putting in place now policies for multinational organisations to capitalise on the opportunities created by the economic transformation programme.'
Niall Byrne, Global Vice President of Openet was the guest speaker at the event and spoke about the key criteria for choosing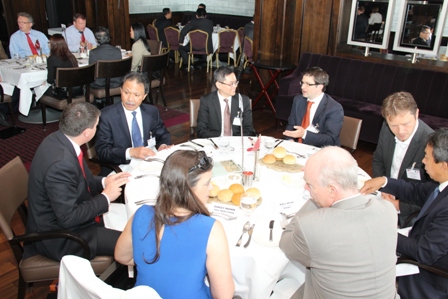 Malaysia and also the reasons why Openet has grown there. He said 'Malaysia played a huge part in the success of Openet. We chose Malaysia because it was easy to fly to, had zero language barriers and because of the very strong education and training environment. Another attraction was the expat structure for our people.' He continued 'There is a wonderful mix of Western and Asian cultures in Malaysia that means our people and their families are happy to live and remain there.'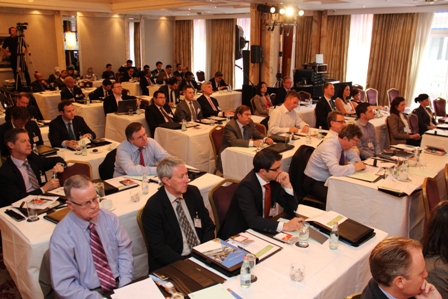 The IMA welcomed the trade delegation which was led personally by MIDA CEO Datuk Noharuddin Nordin and was his first visit to Ireland. Delegates included investment promotion agencies from Malaysia and senior government officials. Attendees from Irish based companies had the opportunity to hold one-to-one meetings with the promotion agencies to explore what expansion opportunities are available to them.
Ireland Malaysia Association (IMA) Chairman, Edward Murphy concluded the event by saying 'Our members see Malaysia as a strategic location for two key reasons. One because of the fundamental support it offers and two because of the opportunity to tap into the huge ASEAN market that it allows. Globalisation means interdependency between markets. Malaysia is perfectly positioned to provide the backdrop for organisations that are expanding their borders. As a country that is powered by a pro-business government, now is the time to turn attention to Malaysia.'
'Analysts say Malaysia is the gateway to trade in ASEAN'
At a recent Ireland Malaysia Association (IMA) meeting of 50 high profile exporters, analysts delivered positive messages about the stability and viability of Malaysia as the gateway to the ASEAN Region.

Paula Carney, Market Manager and Development Leader at Dun & Bradstreet
said 'Malaysia is pushing ahead of other countries during this global crisis. Government spending is up and the country offers a very stable environment to do business.' Neighbouring ASEAN countries accounted for 27.3% of total trade for Malaysia from January to September this year. This suggests huge potential for businesses to use Malaysia as a stepping stone to expand into larger markets. Carney concluded by advising Irish exporters 'Malaysia has ample opportunity and growth potential. If you manage the risk factors appropriately, the opportunity is all yours!'
Najihah Abas from MIDA (Malaysian Investment Development Authority)
flew in from London to speak at the event. She echoed the sentiments of Paula Carney by saying 'The Malaysian Government is providing a highly conducive business environment. Major incentives like Pioneer Status (PS), Investment Tax Allowance (ITA), reinvestment allowances and exemptions from import duty and sales tax on raw material are creating this environment.'
Raja Badrulnizam, Trade Commissioner from MATRADE (Malaysia External Trade Development Corporation)
also travelled from London to speak at the event. Badrulnizam gave details about plans to put in place a free trade agreement with Europe. He added 'Foreign companies based in Malaysia can enjoy preferential market access with free trade agreements with ASEAN countries such as China, Korea, Japan, Australia and India.'
Putting an Irish slant on things,
Terry McParland, Manager Education in Ireland at Enterprise Ireland
spoke about the financial benefit to Ireland that Malaysian students bring saying 'Ireland enjoys an annual revenue of EUR36.2 million from Malaysian students living and studying here. Our universities are internationally recognised and our Government has created a supportive learning environment. Irish exporters must become ambassadors for our country to reinforce the message that Ireland is a leading global destination for education. '
IMA members can view presentation slides from the secure members' area.
Message from Malaysia: 'Ireland is a special trading partner'
A strong message from Malaysia, that 'Ireland is a special trading partner' was delivered by
His Excellency Dato' Ramli Naam, Malaysian Ambassador to Ireland
, at a recent Ireland Malaysia Association (IMA) meeting in Dublin.
Ambassador Ramli said 'The Malaysian Government is committed to delivering a business friendly environment for Ireland. In my capacity as Ambassador I will work closely with local businesses and educational organisations and share their experiences and difficulties with my colleagues in the Malaysian authorities.
'
The Ambassador went on to discuss an investment seminar planned for the second quarter of 2012 that will involve Malaysian businesses coming to Ireland, accompanied by senior Government Ministers. H.E. Ambassador Dato' Ramli Naam is the Honorary Patron of the IMA.
This message was corroborated by award winning exporters
Niall Norton, CEO of Openet Global and winner of the 2011 Irish Ernst & Young Entrepreneur of the Year and International Category awards
, and
Dr. Terry McWade, Deputy CEO Royal College of Surgeons in Ireland.
Mr. Norton
said 'In six years, our staff numbers in Malaysia have grown from 20 to 150. We employ young energetic people who are of the highest quality. The culture in Malaysia is enterprising and vibrant. For Openet it is also a doorway to other markets in the wider ASEAN region and Japan.' He concluded 'Malaysia is a stable and booming economy. One of our biggest challenges there is hiring and developing our people.' Openet Global employs over 820 people and in 2011 had total revenue of $126m.
Dr. McWade
addressed IMA members about RCSI jointly acquiring with UCD, their college in Penang and the experiences of the RCSI over the last 16 years of doing business with Malaysia.
Dr. McWade said 'The warmth, support and goodwill that exist through the circle of connectivity with Ireland can only benefit bilateral relations. Building on these personal connections is vital for generating further trade and investment between both countries.' Dr. McWade went on to give examples of senior political, education and business leaders in Malaysia who have strong links to Ireland.
He concluded 'After MOUs (Memorandums of Understanding) are signed and goodwill exchanged, the challenges lie in how to move on from that and raise necessary funding.' In 2011 Penang Medical College was awarded a six-star rating from the Malaysian Quality Evaluation System for Private Colleges (MyQuest). Only three from a total of 210 private colleges audited, achieved this standard.
Closing the event, Edward Murphy, Chairperson of the IMA said 'It is both encouraging and motivating for our members to hear the success stories of two of the country's leading exporters to Malaysia. We endeavour to work closely with Ambassador Ramli and government agencies in Ireland and Malaysia to build strong links for education, trade and investment between both countries.'
One of the objectives of the IMA is to provide networking opportunities for members in the form of business briefings, delegation visits, seminars and informal events.