Crowleys DFK Partner meets the newly appointed Ambassador of Malaysia to Ireland
Crowleys DFK Partner and Chairman of the Ireland Malaysia Business Association, Vincent Teo, sat down with the newly appointed Ambassador of Malaysia to Ireland for a one-to-one meet and greet today.
Her Excellency Ambassador Anizan Siti Hajjar Adnin succeeds outgoing Ambassador Dato Syed Sultan and is the first female Ambassador of Malaysia appointed to Ireland. She brings with her a wealth of experience in foreign diplomacy and international trade.
Vincent commented, "I'd like to express my sincere gratitude to Her Excellency Ambassador Anizan Siti Hajjar Adnin for hosting today's meeting in the Embassy of Malaysia.".
A focal point of the meeting was a discussion on how to strengthen bi-lateral trade relations between Ireland and Malaysia.
"It was a pleasure to meet with Her Excellency and discuss how Irish businesses can capitalise on business opportunities presented by the financial integration of Malaysia and the ASEAN communities.  We welcome all opportunities to work with the Ambassador going forward" Vincent stated.
Vincent concluded, "Crowleys DFK remains committed in supporting the Ireland Malaysia Business Association in its effort to promote bi-lateral trade relations between the two countries."
New IMA Honorary Patron
On behalf of IMA members, Chairman Vincent Teo formally welcomes the new Ambassador of Malaysia to the Republic of Ireland H.E. Ambassador Dato' Syed Sultan Idris.  We are delighted to announce that H.E. Ambassador Dato' Syed Sultan Idris is IMA's newly anointed Honorary Patron, succeeding our outgoing Patron Dato' Ramli Naam.
H.E. Ambassador Dato' Syed Sultan Idris has held a number of senior roles within the Department of Foreign Affairs including Director in the ASEAN Department and Principal Assistant Secretary of the Southeast Asia Division.  This is his third Ambassador role, having previously worked as Ambassador to Finland and Bahrain.
Ambassador Dato' Syed Sultan Idris is joined by his wife Datin Zarinah Hussin and their four children to Ireland.
The IMA has enjoyed strong support from the Embassy since its foundation and look forward to continuing this important partnership.  To honour his official appointment, the IMA will host an event on 5th of March 2015 to formally introduce our  new Honorary Patron to our members.  Details of the event will follow shortly.
Asia Pacific Ireland Business Forum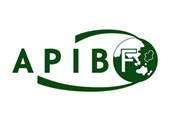 The 7th annual Asia Pacific Irish Business Forum took place in Kuala Lumpur at the Royal Park Hotel on 10th/ 11th  October.
Up to 200 participants from Asia Pacific and the Gulf attended.  MOS Fergus O Dowd from the Department of Communications, Energy & Natural Resources and Environment represented the Government. The Deputy Head of DFAT's Asia/ Pacific unit, Michael O Toole, was also present. Enterprise Ireland and NI Invest were major sponsors, NI Invest using the occasion to underline its efforts to raise Northern Ireland's business profile in Asia.  Other sponsors included FEXCO, ESBI, Kerry Group, PCH International, IMUC (Irish Universities Medical Consortium) and Openet, The event was organised by the Malaysia Irish Business Network led by Ron Anderson and supported by the Ireland Malaysia Association.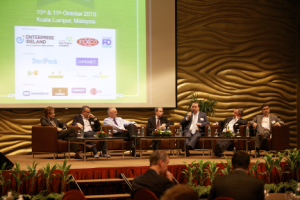 The AIPBF was held on the same weekend as the Asian Gaelic Games which this year was hosted by Orang Éire GAA, based in KL. Martin Skelly, GAA Vice President, and Michéal O Muircheartaigh represented the GAA.
This year's programme opened with a reception and dinner on 10th October. Ambassador Kelly welcomed participants and launched the forum. On 11th October there were over 20 speakers divided into various platform sessions covering a range of business focused topics related to the challenges and opportunities in Asia including a breakfast seminar on doing business in Myanmar led by Ambassador Cole and Gareth McGeown of Coca Cola. This session concluded that although Myanmar offered huge potential as an emerging market the absence of infrastructure curtailed its capacity.
The Forum also featured  a regional DFAT Heads of Mission  round-table, a presentation by Enterprise Ireland focused on client companies active in Asia, a presentation by Invest NI, a session led by Tony O Reilly Jnr of Providence Resources focusing on Ireland's hydrocarbon licensing regime and potential opportunities for Asian investors, a presentation by Liam Casey of PCH International on the evolution of Ireland's business engagement with China and a presentation  on regulations governing intellectual property rights in ASEAN by Paul Kelleher from the EU delegation in Jakarta .
There was also a session led by Irish Chambers of Commerce in the region. The programme also featured presentations by Christina Noble on child protection in Vietnam and Mark Rohan, a gold medal winning  para Olympian.
In his keynote speech MOS O'Dowd spoke of Ireland's growing success in Asia including 8 Billion worth of bilateral trade with China, a 21% increase in trade with Vietnam,  the fact that 20 Japanese companies are located in Ireland and the opening by  CRH of a  regional office in Singapore. The MOS emphasised his willingness to listen to participants' concerns and to emphasise to the Taoiseach on his return the need to focus scarce resources on developing Ireland's business profile in Asia.
Institute of Technology Tallaght Welcomes Sabah Delegation 
Following on from the Malaysian Investment Development Authority's trade delegation to Dublin in June last, IT Tallaght staff accepted the kind invitation to visit the Sabah Economic Development and Investment Authority (SEDIA) in Kota Kinabalu.  The SEDIA President and CEO, Dakut Dr. Mohd Yaakub HJ. Johari hosted the visit. The Tallaght delegation viewed the recent SAIP (Sabah Agro-Industrial Precinct) Industrial Development Campus.  This facility falls within the Sabah Development Corridor (SDC) and promotes the commercialisation of the region's many and varied natural resources.  A small example of the vegetative biodiversity to be found in the surrounding ecosystem is represented here.  The primary purpose of the visit the SEDIA was to open discussions on Academia-Academia collaborations, opportunities in the Academia-Industrial domain and in the area of Human Capital Development.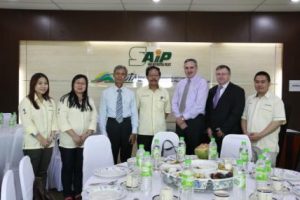 To these ends the President of SEDIA facilitated meetings with Mr. Wan Mohd Azeelan B. HJ. Adnan, the Chief operating Officer of the University of Malaysia (UMS) Link Holdings – which is the professional development and industrial liaison wing of UMS- and with the Universiti Technologi MARA (UiTM) Sabah's Rector, Datuk Dr. HJ. Abdul Kadir HJ. Rosline to discuss possible academic collaborations and industry-academia initiatives.
IT Tallaght are pleased to announce that there will be a follow up visit to Ireland from January 15-17, 2014 by a Sabah delegation which will include representatives from SEDIA, UMS Link, SAIP, and the Institute for Development Studies
Ireland Malaysia Association flying high with Etihad Airways
The Ireland Malaysia Association is delighted to announce a one year sponsorship arrangement with Etihad Airways, who will be the sole airline patron of the IMA.

As part of the agreement Etihad Airways will be the main sponsor at a number of IMA networking events throughout the year along with Etihad Airways guest speakers at each. The Etihad Airways logo will appear on the homepage of the IMA website with a link directly to the Etihad Airways own website, www.etihad.com.  Etihad Airways will also feature prominently in the regular IMA Ezine which is distributed to its corporate members.
Commenting on the announcement, Dave Walsh, Etihad Airways General Manager Ireland said 'The stability and viability of Malaysia as the gateway to the ASEAN Region makes it an important destination for our customers.  We look forward to working with the IMA and supporting its activities.'
Members of the IMA travel between Ireland and Malaysia several times per year.  Etihad Airways, the National Airline of the United Arab Emirates, offers regular flights from Ireland to Kuala Lumpur and Johor Bahru.
Speaking about the sponsorship, IMA Chairman, Edward Murphy said 'Like Etihad, the IMA is an innovative and dynamic organisation.  We are actively working to grow and expand our reach.  As winners of the Leading Airline Awards four years running, we are delighted to have such a prestigious and supportive sponsor. '
The IMA is also supported by corporate sponsors Crowleys DFK, Enterprise Ireland, IDA, Department of Foreign Affairs & Trade, MATRADE (Malaysia External Trade Development Corporation) and MIDA (Malaysian Investment Development Authority).  The Malaysian Ambassador to Ireland, Dato' Ramli Naam, is Honorary Patron of the IMA.
Healthy travelling while in Malaysia
The upcoming Asia Pacific Trade Forum in Kuala Lumpur in October provides Irish companies with an exciting opportunity to show case their products and services. It also provides the Irish business traveller the opportunity to experience the exciting and vibrant environment in Malaysia.
Malaysia and South East Asia remains one of the most common destinations and regions for Irish travellers. Our patients are visiting this beautiful region for a multitude of different reasons [including holiday makers, trekkers and of course the business traveller ] With the business traveller unfortunately they may hit the ground with their feet running and not have the opportunity to experience all that Malaysia has to offer.
Nevertheless travelling from Europe does induce a variable degree of jet-lag and when you mix this with the very considerably different climate there are problems which can effect even the most experienced traveller. Arriving a day or two before the business side takes over is very beneficial and sure to lead to better results.
The Irish diet is a fairly bland affair in comparison to what is on offer in Asia so care needs to be taken to avoid stomach upsets and an altered focus of concentration! Consuming plenty of bottled water is essential to avoid dehydration is essential in the tropics and travellers should remember that perspiration (either due to climate or the worry of the business experience!) will reduce their internal salt levels which can cause problems. This is a good excuse to indulge the desire for peanuts and crisps! Low salt levels lead to tiredness and headaches, muscle cramps and generally feeling grouchy! A poor state of health for any business traveller!
Vaccinations are not a requirement for entry into Malaysia but our general advice to business travellers and travellers in general whether travelling to Malaysia or other destinations is to make sure that you have the minimum recommended cover of Tetanus, Typhoid and Hepatitis A.
Irish business travellers should be seen 3 to 6 weeks before their trip if at all possible to get their vaccines and malaria / insect precautions in place but this is usually very straightforward and seldom causes any significant difficulty.
For travel safety tips or further information on your medical needs or to book an appointment, please contact the Tropical Medical Bureau on 1850 487674 +353 1 2715200 or through www.tmb.ie
Tropical Medical Bureau have 22 clinics throughout Ireland.
Dr Graham Fry MB FRCSI DTM&H
Medical Director
Tropical Medical Bureau, Ireland
Andrew Lewis
CEO
Tropical Medical Bureau, Ireland
4
th
Global Entrepreneurship  Summit 2013: 11
th
– 12
th
October, KL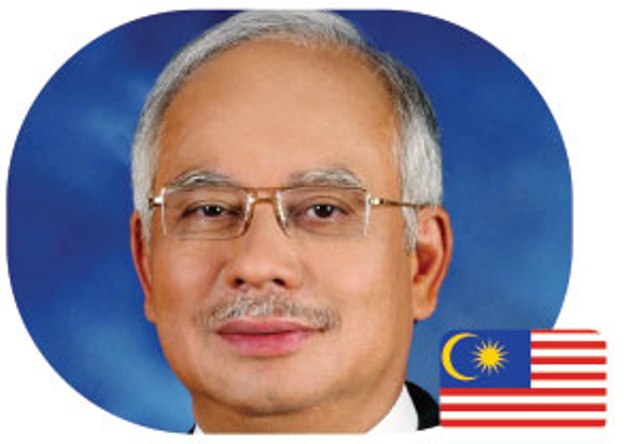 Malaysia will host the 4th Global Entrepreneurship Summit 2013 in Kuala Lumpur on 11th – 12th October 2013.
Themed 'Empowering and Connecting Entrepreneurs', this two day Summit will bring together entrepreneurs, corporate leaders, high level government officials, researchers, non-government organisations and incubators from all around the world.
The Summit will provide an important platform for entrepreneurs to network, exchange experiences and knowledge, as well as form business alliances.
The Global Entrepreneurship Summit is a follow-through on President Barack Obama's commitment to emphasise the importance of entrepreneurship in Muslim-majority countries globally.
For further information, visit the Summit's official website www.geskualalumpur2013.org.
IMA number one platform for organisations trading with Malaysia
In a recent issue of the Irish Travel Trade News, the IMA was cited as being the number one platform for organisations planning on trade with Malaysia.  Read the full article.
Strong Irish appetite for exports to Malaysia
At a recent seminar in Dublin's Croke Park, hosted by the Irish Exporters Association Asia Trade Forum and the Ireland Malaysia Association, speakers presented a strong case for the growth potential of Irish exports to Malaysia.  The Malaysian government's low cost access to local-currency finance, its net external creditor status and recent reforms of its public-sector enterprises were all cited as providing a cushion against near-term payment risks.
The event was attended by His Excellency Dato' Ramli Naam, Malaysian Ambassador to Ireland, Patron of the Ireland Malaysia Association, Minister Jimmy Denihan, Minister of Arts, Heritage and the Gaeltacht and 85 CEOs from leading Irish exporters.  Vincent Teo, Vice Chairperson of IMA said 'Working with our IMA members, we see the opportunities that are becoming a reality for Irish exporters.  There is a huge appetite for expansion into the ASEAN region and Malaysia is viewed as a spring board for this growth.
Malaysia, as South East Asia's third largest economy, has withstood the global economic slump, and has successfully expanded its economy by 5.4% in the last quarter.   It has hosted three of the world's six largest IPOs by companies this year and is a key Asian market.
Hugh Kelly, Chairman of the Asia Trade Forum, paid tribute to the efforts of the Irish embassy staff in Kuala Lumpur, and Enterprise Ireland's and Bord Bia's support and work on behalf of exporters but stressed the need for more front-loaded spending on promoting Ireland's image in Malaysia. "This is necessary to provide the platform from which Irish exporters of goods and services can launch into and grow in this strong and growing market."
Exporters were urged to take advantage of the planned events taking place in Malaysia in 2012:
–          The Asia-Pacific Ireland Business Forum event in KL on 26th October
–          The Asia-Pacific and Gulf Asian Gaelic Games also in KL on 27th and 28th October.
–          A trade mission by Minister of State Ciaran Cannon, on the 9th to 15th December
55th National National Day of Independence
A number of IMA members were invited to a special reception hosted bythe Malaysian Ambassador to Ireland, H.E. Dato' Ramli Naam, to mark
the 55th National Day of Malaysia. The event was attended by almost ten Ambassadors, Government officials and businesses trading in Malaysia.
Down to Business in Malaysia
IMA members contribute to Newstalk's 'Down to Business' show.  Listen to the podcast.
The Minister of Foreign Affairs of Malaysia meets IMA
The Minister of Foreign Affairs of Malaysia, Yang Bahagia Dato' Sri Anifah Hj. Aman made a diplomatic visit to Ireland in March 2012. This is the first visit to Ireland by a Malaysian Foreign Minister and the first for Yang Bahagia Dato Sri Anifah since he was appointed as the Minister of Foreign Affairs of Malaysia in April 2009.
Yang Bahagia Dato' Sri Anifah's arrival was met by Minister Eamonn Gilmore, Tanaiste and Minister for Foreign Affairs and Trade of Ireland.
In conjunction with Yang Bahagia's visit, His Excellency Dato' Ramli Naam, Ambassador of Malaysia to Ireland with officials of the Embassy hosted a dinner reception.   Vincent Teo, Crowleys DFK Director and Executive Council Member of the Ireland Malaysia Association, addressed the gathering and met afterwards with Yang Bahagia Dato' Sri Anifah Aman. Their discussion centred on strategies and actions to promote bi-lateral business relations between the two countries.
News from IMA Member, Openet
Openet announces that it has again been named the global revenue leader in Infonetics Research's Policy Management market share, size and forecast report. This survey ranks policy management vendors by market share and analyzes the overall landscape.
This is the second year in a row that Openet has been named the top company for this report, despite a growing number of competitors entering the market. This is a result of Openet's innovation and the subsequent unique value of its policy management product, Openet's pedigree in engineering scalable decision-making systems and Openet's proven performance in deploying solutions for tier one carriers.
You can read the full press release here.
News from IMA Member, QMS Software
Canon sell smarter with Ulysses: Canon targets customers with Ulysses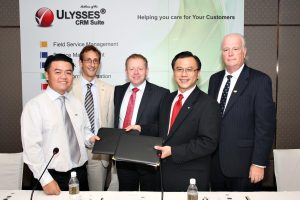 QMS Software Asia Pacific Sdn. Bhd. has announced that Canon Malaysia has chosen Ulysses as their business platform for sales management.  Selecting Ulysses was a key strategic decision for Canon as Ulysses will provide them with the platform for their future sales growth in Malaysia.
"Canon is adopting Ulysses to manage our entire sales force throughout Malaysia so that the sales people not only get more time to sell, but also get to sell smarter with the information Ulysses provides" Mr Ooi, Commercial director of Canon Malaysia stated at signing ceremony for the official awarding of contract to QMS Software Asia Pacific for the supply of their Ulysses CRM solution.
"Ulysses enables us to deliver an outstanding service to our customers" Mr Ooi, continued.  "Staff can instantly access the complete, accurate and up to date customer information in Ulysses.
Canon Malaysia is a leading provider of cutting edge imaging and information technology solutions. Having chosen QMS's Ulysses, it will be deployed at Canon's headquarters located in Shah Alam and across their seven branches.
"Easy customisation, rapid implementation and effortless integration with their ERP solution were the key reasons that Canon chose Ulysses as the platform for sales automation" continued Ooi. "The level of service we get from QMS Software Asia Pacific is absolutely superb."
Ulysses provides a complete view of customer interactions across sales, marketing, customer service, and support. Teams can collaborate and respond promptly and knowledgeably to customer inquiries and sales opportunities. Powerful process automation capabilities along with highly customisable platform help businesses achieve stronger sales results.
"Canon is an excellent fit for our Ulysses software as they have a sophisticated business process in a very demanding and competitive business environment"  Mr Lim, Managing director of QMS Software Asia Pacific explained, "This is where our Ulysses software excels and delivers a fast return on investment (ROI) to our clients.
Ciaran Cannon, Minister of State, Ireland and Irish Ambassador Declan Kelly today attended a signing ceremony for the official awarding of contract to QMS Software Asia Pacific for the supply of their Ulysses CRM solution to Canon Malaysia.
Commenting on the success of QMS, Ciaran Cannon said:  "QMS demonstrates just what can be achieved in Asia by Irish technology companies with a quality product and service offering.  Their prestigious and rapidly expanding client base is clear evidence of the success of QMS"