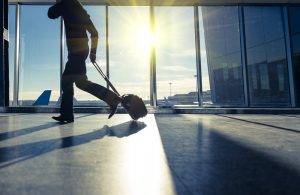 The upcoming Asia Pacific Trade Forum in Kuala Lumpur in October provides Irish companies with an exciting opportunity to show case their products and services. It also provides the Irish business traveller the opportunity to experience the exciting and vibrant environment in Malaysia.
Malaysia and South East Asia remains one of the most common destinations and regions for Irish travellers. Our patients are visiting this beautiful region for a multitude of different reasons [including holiday makers, trekkers and of course the business traveller ] With the business traveller unfortunately they may hit the ground with their feet running and not have the opportunity to experience all that Malaysia has to offer.
Nevertheless travelling from Europe does induce a variable degree of jet-lag and when you mix this with the very considerably different climate there are problems which can effect even the most experienced traveller. Arriving a day or two before the business side takes over is very beneficial and sure to lead to better results.
The Irish diet is a fairly bland affair in comparison to what is on offer in Asia so care needs to be taken to avoid stomach upsets and an altered focus of concentration! Consuming plenty of bottled water is essential to avoid dehydration is essential in the tropics and travellers should remember that perspiration (either due to climate or the worry of the business experience!) will reduce their internal salt levels which can cause problems. This is a good excuse to indulge the desire for peanuts and crisps! Low salt levels lead to tiredness and headaches, muscle cramps and generally feeling grouchy! A poor state of health for any business traveller!
Vaccinations are not a requirement for entry into Malaysia but our general advice to business travellers and travellers in general whether travelling to Malaysia or other destinations is to make sure that you have the minimum recommended cover of Tetanus, Typhoid and Hepatitis A.
Irish business travellers should be seen 3 to 6 weeks before their trip if at all possible to get their vaccines and malaria / insect precautions in place but this is usually very straightforward and seldom causes any significant difficulty.
For travel safety tips or further information on your medical needs or to book an appointment, please contact the Tropical Medical Bureau on 1850 487674 +353 1 2715200 or through www.tmb.ie
Tropical Medical Bureau have 22 clinics throughout Ireland.
Dr Graham Fry MB FRCSI DTM&H
Medical Director
Tropical Medical Bureau, Ireland
Andrew Lewis
CEO
Tropical Medical Bureau, Ireland